Running Instructors
Mindful Running: Trail Running, Meditation and Yoga Retreat
Overview | Retreat Center Info | Instructors | Cost | Registration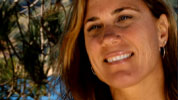 Terri Schneider is a motivational speaker, author, coach and sport psychology consultant. As an adventure racer, triathlete, ultrarunner and mountaineer Terri has raced and adventured in over 65 countries and has established herself as one of the most experienced multi-sport endurance athletes and coaches in the world. As a world-class professional triathlete for 10 years and elite international adventure racer since 1995, Terri has been featured on the Discovery Channel, USA Network, high profile talk shows, news segments, and popular outdoor publications highlighting her personal experiences in triathlon, ultrarunning and arguably the most grueling sport on the planet; adventure racing.
Terri has competed internationally in 7 Eco-Challenge® Expedition Competitions, the Mild Seven Outdoor Quest in China, the ESPN X-Games Adventure Race, the Raid Gauloises in Tibet and Nepal, many 50 and 100 mile endurance runs and 7-day running stage races in the Sahara and Gobi Deserts and in Costa Rica. She's completed 22 Ironman Triathlons, finishing in the top 5 three times in the Hawaii Ironman Triathlon World Championships.
Terri earned her Masters degree in Sports Psychology with an emphasis on team dynamics and risk taking and her Bachelor of Science degree in Exercise Physiology. She speaks and writes on topics such as teamwork, motivation, sports psychology, and risk taking. She is author of Triathlon Revolution: Training, Technique and Inspiration, co-author of Triathlete's Guide to Mental Training and has contributed to two additional books. As an endurance coach for 20 years, she is an expert at helping individuals and teams create their own authentic vision and potential.

Paula Saraga is a Kinesiology & Yoga Instructor at Cabrillo College. She has been studying various types of yoga for most of her adult life and is strongly influenced by BKS Iyengar's style of yoga which focuses on alignment. Paula has been teaching this format in colleges, corporations, health clubs, dance schools and privately to individuals for almost 15 years.  Paula had the good fortune of studying with the Iyengar's in Pune, India in 1999 for a month at their Institute.  This past year she was selected for 2nd place "Best Yoga Teacher" by the Santa Cruz Weekly. She also placed 3rd as "Best Massage Therapist".
Along with teaching yoga, Paula is a certified massage practitioner as well as a Certified Personal Trainer with the National Academy of Sports Medicine (NASM) working in various locations on both sides of the hill including Caress Day Spa, Dancenter and CORE Fitness and Rehab. Paula also has a masters degree in Body-oriented Psychology from the California Institute of Integral Studies in San Francisco.
If you prefer to register by mail, print and fill out this Registration Form to send in via snail mail.